NextGen Toy
The Mavic is something special. It changed the drone market drastically by offering stuff to the consumer that was before only obtainable by the rich or professionals.
The Specs
The Specs are downright impressive and they still are today(early 2018). A 4K camera with 28mm f/2.2 with 12MP. and 27 minutes flight time. All combined in an incredibly small form factor of only 83mm x 83mm x 198mm. All nicely topped9 off with a KM(4.3 miles) range. I don`t know any person even remotely interested in camera drones which was not totally blown away by the Mavics Specs.
FOR A DETAILED MAVIC PRO VS MAVIC AIR SPECS COMPARISON CHECK THIS OUT
As i said, in many regards the Mavic had Specs you would have previously found in babies like this:


FOR A DETAILED MAVIC PRO SPEC SHEET CLICK HERE
Real World Fun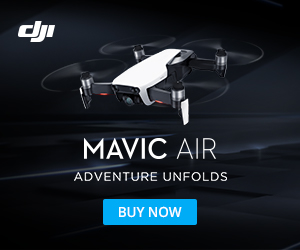 It`s cool to have a nice spec sheet, but how does it fair out there in our beloved Real Life? The drone delivers on any front, photos are incredibly harp and detailed, filming is smooth as a baby's ass and the intelligent flight modes even make your grandpa look like a professional drone pilot. It`s just fun to use and it delivers stunning pictures and movies even for people who aren't complete nerds or professional filmmakers.
Is the Mavic Pro a good choice for professionals?
Yes, it is. The Mavic is more than good enough for wedding filmmakers as well as for example real estate photographers. Especially the Photos are flawless. The videos are shot at 4k@60mb/s. That can cause very small and barely noticeable artifacts. I bet if you would go out on the street and show hundred people footage of the Mavic, maybe 2 people would recognize artifacts. The rest will be blown away by the vibrant stabilized 4K image and will not believe you if you tell them you shot this with that tiny thing. I almost never saw a person not being blown away by the capabilities of a Mavic Pro drone.
So which one to get right now?
I believe that it is a great moment to buy the Mavic Pro drone if you might be one of the unlucky people who still does not have one. You can get Mavics for around 800-1000€ now. That means you could get a Mavic Pro instead a Mavic Air for the same amount of money or just slightly more. The Mavic is still the right form factor for me and I gladly take the extra 300 grams extra "luggage" in exchange for a better Camera platform. The Mavic Air is an amazing little machine, no doubt about that but you will find a Mavic air for around 400 bucks in less than two years. Promise. Of course, if you are extremely wealthy, go for it! get one right now and have fun. But if you are so wealthy anyway, get a ducking Mavic pro before 😉
Check this out:
A Mavic9 Pro costs as I said just slightly more than a Mavic Air